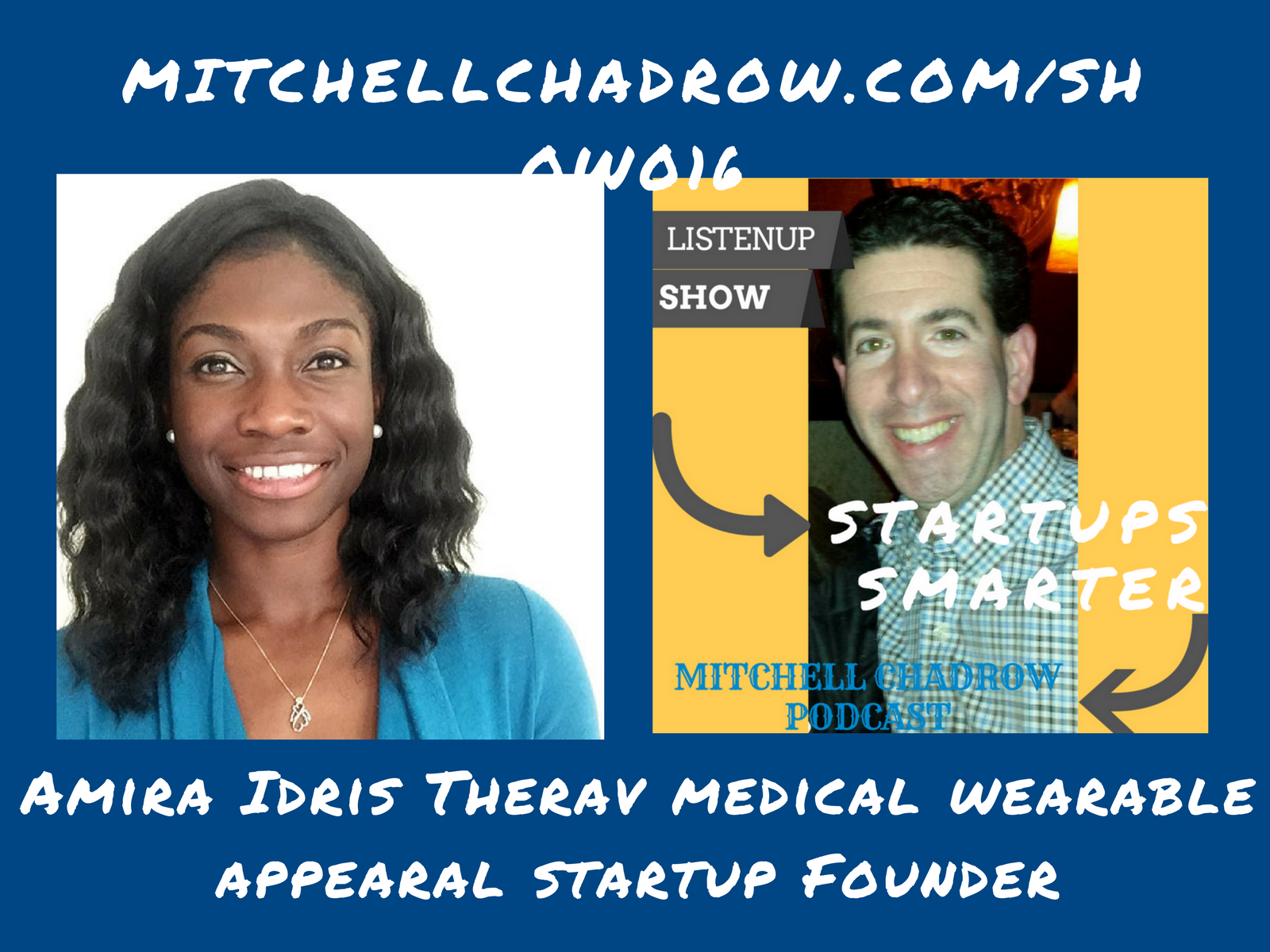 Amira Idris is CEO and Founder of TheraV formally Vibrating Therapeutic Apparel (VTA) that integrates medical wearable technology with vibration therapy. The patent-pending technology is being used to create a line of therapeutic apparels that improve blood/fluid circulation and tissue activity in the body.
This patent-pending technology is a wearable therapeutic product that uses vibration technology to improve performance, health, and quality of life.  TheraV helps with the neuropathic pain which often responds poorly to standard pain treatments and in some patients that pain will often get worse rather than better.  In defining neuropathic pain Amira points out it is a complex, chronic pain that occurs from damage to nerve fibers, which send incorrect signals to the brain. One prime example is called phantom limb pain.
Amira tells us that VTA now TheraV was inspired after a chance encounter with an above the knee amputee suffering from phantom limb pain or (PLP).  Prior to startup she first worked at a prosthetic clinic.
After seeing the limited options that post-amputation pain sufferers had to choose from to relieve the pain, Amira decided to take it upon herself to develop this alternative that does not depend solely on drugs.
Amira first talks about the initial version of the device which was first called Vibrosleeve which helps amputees to keep their limbs healthy through massage that increases tissue activity, blood and fluid flow. However, today a brand new device is called Elix which can be used when individuals experience discomfort, that comes with pain, like pins-and-needles sensation, numbness, and weakness.  The device is actually customizable where users can choose the actual locations to place ELIX, and thus control the vibration intensity and pattern.  We are now told that the Elix sleeve costs dramatically less than the alternative and the great news is that Elix requires no prescription to be purchased.
In our last show, we discussed crowdfunding and raising investments that is why it is so exciting to see that TheraV has raised thousands through a series of investments and programs, competing against some of the country's most exciting and innovative engineering and technology start-ups in the process.
Resources from this Show:
University of Delaware Horn Program
Connect with Amira Idris, get TheraV updates, read about their progress through social media pages, newsletter, and the TheraV blog news.
Some facts to know about -> 10 million people in the world live with limb pain of which 2 million are located right here in the United States of America.  It is frightening to think that these numbers are anticipated to double by the year 2050.   Another scary fact is that 80% of these amputees suffer from a condition known as phantom limb pain.  So what is phantom limb pain? It happens when one feels ongoing nerve pain in a limb after it has been amputated because the brain is unable to recognize that the limb is no longer there and this type of pain can be so intense that its victims suffer from loss of sleep and the inability to function with a decrease in quality of life.  Studies have shown that on average it costs over five thousand dollars to manage pain each year per person.  Amira has the right background balancing her biomechanical engineer and entrepreneurial spirit which was critical to her founding of the therapy startup TheraV.
Amira tells us her inspirational story of her life-changing encounter with an above-the-knee amputee while working at a prosthetic clinic.  Now years later she finds herself with her first line of products described as an innovative strap that uses vibration therapy to manage pain.   The strap unlike the other alternatives available can be used all day even while asleep.  Thus the strap provides a customizable therapy which means users choose the specific locations on the sleeve they want to place the vibrations and control the vibration pattern and intensity it has no side effects it does not require a written prescription to be purchased and costs a fraction of the alternative, in addition, the unique patent-pending design will be adapted to all forms of apparel Amira is very passionate about helping people better manage pain and with her company she's doing that one apparel at a time.
What we learn in this show:
Nerve pain affects over 42 million people in the United States.
Neuropathic pain affects up to 65% of U.S. adults.  However, TheraV's unique patent-pending design will be adapted to other forms of wearables.