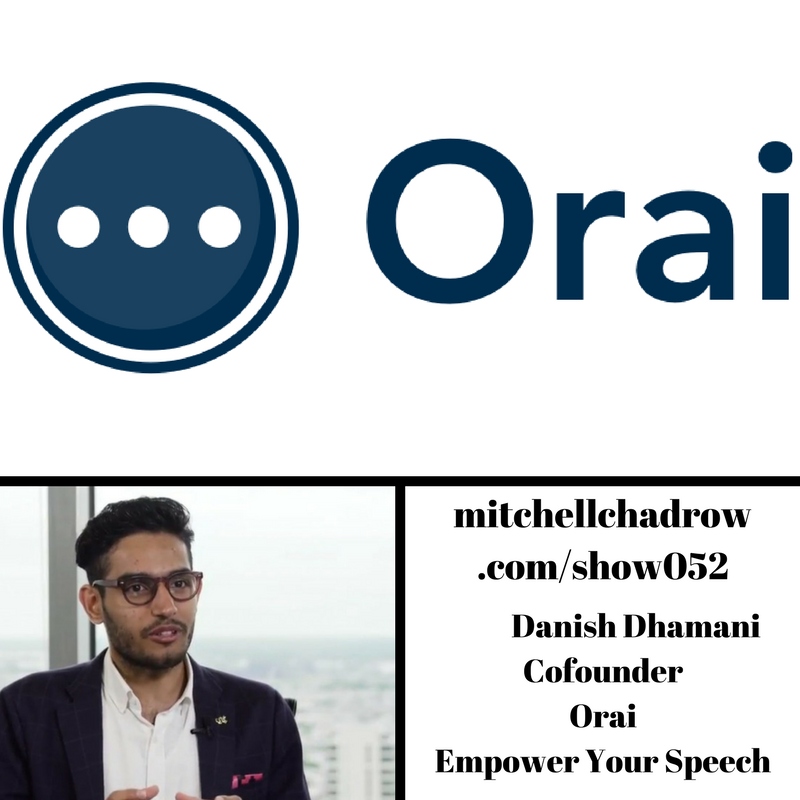 SMARTER MARKETING   CONSUMER FINANCE    STARTUPS COURSE   LISTENUP SHOW    APP DEVELOPMENT
Orai Language Speech App
Founder Danish Dhamani
Danish Dhamani founded Orai a language coaching app.  The app has been featured in Fast Company, Wired Magazine, and Venture Beat. Danish was born in Pakistan and was raised in Tanzania.
How to speak with confidence and speak more powerfully when on stage, in front of a room, or even in everyday life.
Learn to use on-demand speech and video artificial intelligence to boost sales, close more business from targeted insights on your speech by leveraging the machine learning algorithms which automatically evaluate a pitch on parameters such as content, confidence, clarity, tone, and energy.
How a first-time entrepreneur and college engineer, built an app.
Using both artificial intelligence (AI) and virtual reality (VR) how you can help people solve a problem like public speaking one of the largest fears in the world.
Leveraging and improve your speech and sales with machine learning enterprise software to improve your business sales with on-demand speech and video technology.
Improving your speech and sales with enterprise software
We talk funding raising through various competitions:
• Microsoft U.S. Imagine Cup 2nd Place Winner, May 2017
• Drexel Business Plan Comp, Nov 2016 – 1st Place
• GSEA Pitch, Nov 2016 – 2nd Place
• IBM SmartCamp, Nov 2016 – Finalist
• TechCrunch DISRUPT San Francisco, Nov 2016 – Presentation
• Shark Tank Auditions, Jun 2016 – 2nd Round
• PittJohnstown Live, Jun 2016 – 1st Place
• Baiada Business Model Comp, Jun 2016 – 2nd Place
• Oh-Penn Pitch, Apr 2016 – 1st Place
• Recess Pitch, Apr 2016 – 3rd Place
• Startupalooza, Mar 2016 – 3rd Place
• College Pitch Philly, Feb 2016 – 2nd Place
• Drexel Startup Day, Nov 2015 – 2nd Place
• PennApps Hackathon, May 2015 – Top 10
That's over $50,000 in cash, credits, and prizes.
He tell's us why he started his business.
How you can actually improve speech from content, structure to diction.
We talk sales his and how your speech can increase your sales.
We talk about the several articles published on Orai like Fast Company, which had international reach. Others included:
Oraiapp.com has been featured in VentureBeat, Fast Company, (and) Wired, and that really helps build an international reach and customer credibility for users. We were getting thousands of new users every day, people from all sorts of backgrounds and people reaching out to me on LinkedIn, offering their services, offering partnerships.
These a sample of some of the articles written on Orai:
FastCompany: Learn How To Love Talking In Public (And Stop Saying "Um" And "Like") With This New App
JUNE 05, 2017
VentureBeat: Orai app uses AI to help you become a better public speaker
MAY 06, 2017
Karissa Fleming: Orai App Review
MAY 06, 2017
Philly.com: A Microsoft contest could earn this Drexel speech-coaching start-up $100K
MAY 04, 2017
Microsoft: 2017 U.S. Imagine Cup Winners announced
APRIL 20, 2017
Drexel NOW: The Drexel Students Who Can Fix Your Fear of Public Speaking
APRIL 17, 2017
The Official Orai Blog: Why we created a public speaking app
MARCH 21, 2017
Philadelphia Business Journal: Spotlight on smartphone app Orai
MARCH 16, 2017
New Learning Times: Before You Make That Speech, Check Out Orai
MARCH 10, 2017
The University City Post: Meet Orai – Your personal speech consultant
FEBRUARY 15, 2017
Drexel College of Engineering: Student Develops App to Aid Public Speaking
FEBRUARY 01, 2017
Technical.ly Philly: The 20 most exciting startups in Philly right now
JANUARY 30, 2017
Technical.ly Philly: Pay attention to these 2 language-oriented Drexel undergrad startups
JANUARY 18, 2017
another article published in Wired, and that really built their credibility.
Startup Round
Partnerships – Toastmasters International
Orai 2.0 coming out at month end August 2017 – refining Orai and adding more benefits and features.
What is the big vision for Orai. In the next five years,?
Fast Pitch
Favorite book: Four Hour Work Week, Tim Ferris
who do you use to host your website: Square Space
We know your favorite app: Oraiapp.com now featured on appssmarter.com
quote or mantra:
Who does he attribute his success:
The secret to his rise and what has contributed most to his success to date:
His best business advice that he has received:
Wrap up round
Three main take aways:
How can people stay in touch
what is your philosophy in business, family and life –
what guides you most on this entrepreneurial journey?

30 Tools to Startup
Grab Mitchell's e-book – "30 Tools to Startup!"
As an entrepreneur, our guests remind us that time is our most valuable asset and you need to maximize your efficiency and productivity. And technology can be really helpful in doing that.
So I outlined the 30 tools that help you increase productivity, get started in business and I'm sure they'll help you too.
So click Download Now! below enter your email to sign up and subscribe and get your free ebook 30 Tools to Startup and start being smarter today!
---