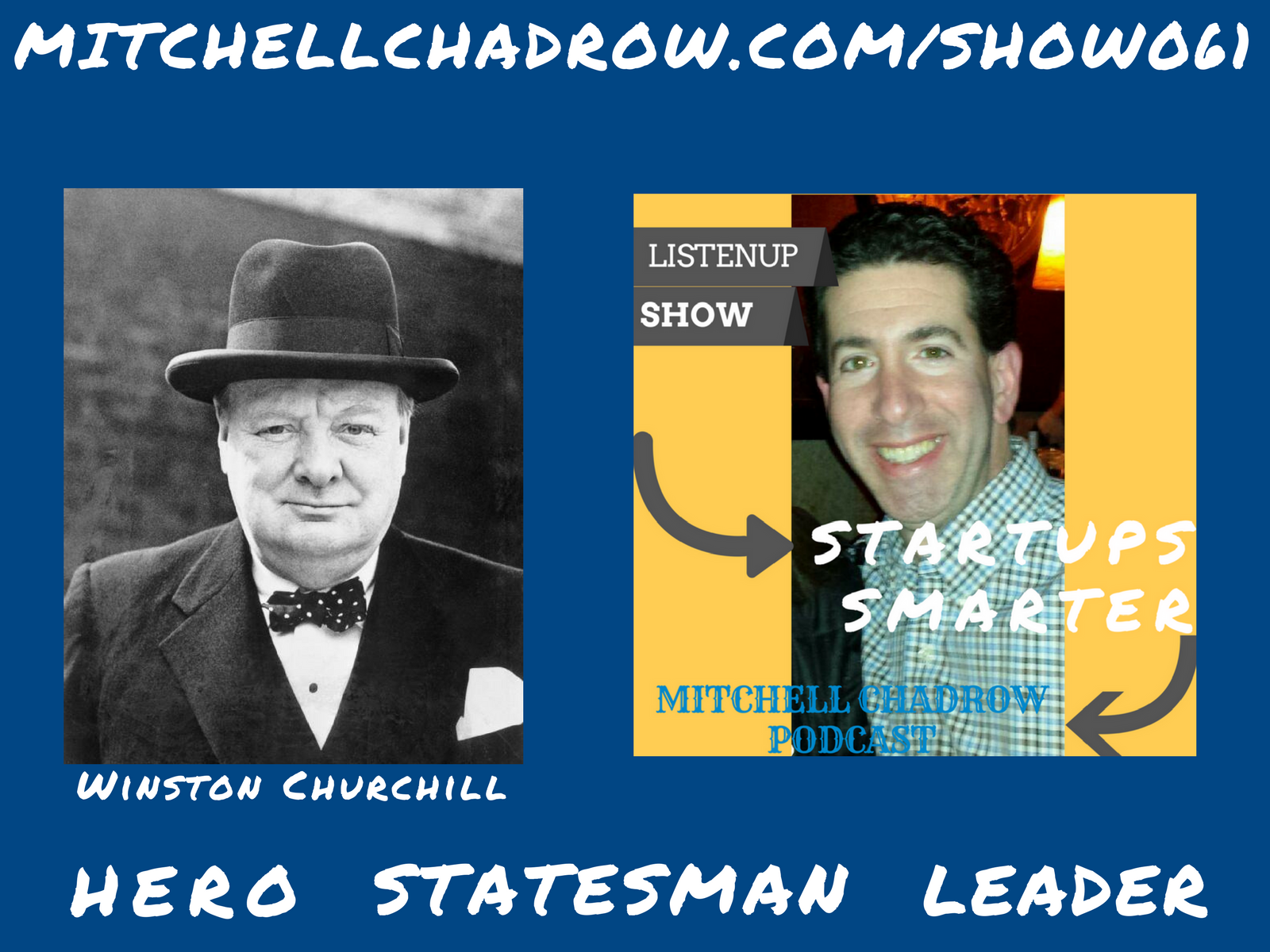 If I could interview someone Winston Churchill would top on my list and as business owners, startups and those wanting to learn lessons of entrepreneurship you must listen up to today's show 061.
Winston Churchill was a soldier, a historian, a statesman, a knight, a painter, a bricklayer, and every bit a smart-aleck a war leader and one of my hero's
On today's show learn Why Study Winston Churchill?
What are we going to discuss –
lessons learned – > it is not just what he said with so many awesome quotes but what he did!
So many life lessons:
-> Where you start means little compared to where you finish.
-> Bold action and good fortune can lead to remarkable circumstances.
-> Even great men have bills to worry about.
-> Personality can shine from small things
Winston Churchill taught business owners, startups, entrepreneurs taught everyday business startup entrepreneurial success.
You don't want to be a Neville Chamberlain in business –
as an entrepreneur, you do not want to be someone who is merely willing to just go along to get along
your business strategy should not be one of appeasement merely planning out of Fear
What did Churchill teach us about one of the most important characteristics you must have as a business owner?
Courage –
"Courage is what it takes to stand up and speak; courage is also what it takes to sit down and listen."
I always tell my younger daughter she is the voice that others don't have – when it comes to your business you are it's the biggest fan you must promote it and act as a raving fan but when surrounding yourself with a team, outside advisors and customers you also have to be willing to also listen up
Churchill was big on – > Taking action and executing on his plans!
He would put red labels on all his documents with the words "Action this day"
His mantra was – >
I never 'worry' about action but only about inaction"
His Management style during World War II!
I often ask what would have happened had Churchill, not Chamberlain was Prime Minister in 1937 but I am so thankful he did in 1940! If not this world would look a lot different then it does today
Communication skills are critical to success :
For example, In addition to Churchill's actions of communicating regularly to his top team of commanders in the field, another critical characteristic for business success and what Churchill was great at was his speedy resolutions he demanded that colleagues and staff all signed up for total commitment and action
We all heard of people that throughout life make things happen and certainly I knew my dad as someone like that but Winston Churchill in a huge way was someone throughout his life that made things happen especially given that this world needed someone just like during the critical time in the history of the World
Churchill was Relentlessly driven and focused
For example, During World War, he had personal challenges yet he demanded personal bravery in the face of not only physical danger but also intense mental battles
Our Start-Up Round is Sponsored by
Chadrow.net – it's not just another law firm we empower our clients about the law we work with other legal firms, paralegals, and law support personnel to provide free resource guides –
Learn more about how laws are created
Get free Legal service solution guides on digital assets, estate planning, gift and family law, real estate and borrowing money and so much
Four key life principles to remember as they apply to you, your family and business and stories about how they also apply to the life of Winston Churchill:
How you start out in business doesn't tell us much versus how you finish – 
This relates to Winston – When Churchill was young he not only failed to set the academic world on fire, "I did not do well in examinations. This was especially true of my Entrance Examination to Harrow. I wrote my name at the top of the page. I wrote down the number of the question. Thereafter I could not think of anything connected with it that was either relevant or true. I gazed for two whole hours at this sad spectacle: and then merciful ushers collected my piece of foolscap with all the others and carried it up to the Headmaster's table. "
Despite the stumbling start, as Boris Johnson points out, Churchill ran a race few of us could dream of matching: producing more published words than Shakespeare and Dickens combined, winning the Nobel Prize for literature, serving in every great office of state including prime minister (twice), indispensable to victory in two world wars and posthumously has paintings valued at more than a million dollars.
In business, you must take bold steps or actions have some good luck but together it can create some awesome results – 
Captured as an obscure newspaper correspondent during the Boer war, Churchill escaped from his South African POW camp, made his way to a rail yard and hid in a box car filled with sacks of coal. Realizing Boer troops would likely search again at the next town, Churchill waited for darkness and jumped into unfamiliar countryside from the moving train. Without food or water, he was soon forced out of hiding. Unbeknownst to Churchill, the closest country house belonged to a British sympathizer and he was greeted with the words, ""Thank God you have come here! It is the only house for twenty miles where you would not have been handed over." Churchill made it back to British lines, returning to London as a national hero – and poised to begin his political career.
When you are just getting started in business everyone has concerns even the greatest most accomplished and some even worry about how they will actually pay the bills – 
Money worries nipped at Churchill's heels for almost all of his adult life. His father, Lord Randolph Churchill was (unfortunately) the younger son of the Duke of Marlborough, who secured his fortune by marrying Jennie Jerome, daughter of Leonard Jerome, an American financier known as "The King of Wall Street" and frequent business partner of J.P. Morgan. Accustomed to an aristocratic life, little inheritance came Winston's way and what he had was lost in the crash of 1929.
From that point forward Churchill's sole means of supporting a highly extravagant lifestyle came from writing articles and publishing books. Few of his peers were aware of Churchill's constant cash flow worries. Even fewer knew he worked prodigiously because – in the words of a close friend, ""if the music stopped, he would be insolvent".
His salvation came in two forms: a complete lack of "writer's block" and the discovery of dictation as an alternative to writing out content. Churchill created a factory approach to writing and employed a team of researchers and ghostwriters. He also developed a disguised working routine: after hosting dinner, Churchill would mimic his guests and appear to retire for the night. Instead, he walked to a suite of rooms where his staff worked with him until two or three in the morning. By the time he greeted guests at breakfast the next morning, new material was on its way to the publishers and he was a "man of leisure" again.
Your personality in business can really make all the difference even by focusing on what seems to be all the small stuff and most of it is –
At Churchill's Chartwell estate, often one of a visitor's most memorable and charming experiences is the sight of stuffed animals peeking out from the library shelves. Churchill was tremendously annoyed when books could not be found quickly. The solution he devised was to use small stuffed animals as library placeholders. The Chartwell staff professes that the animals seen in the library are legacies from Winston himself.

Lightning Round sponsored by startupssmarter.com
Leaving a family legacy is part of an estate plan and balance with business as an entrepreneur business owner
When it comes to Churchill books: the top of my list is by Dr. Larry P. Arnn President of Hillsdale College he wrote an amazing book on Churchill called Churchill's Trial Winston Churchill and the salvation of free government – Hillsdale College is also involved with the Churchill Project and I will have a link in the show notes to that wonderful work
Who are your heroes: All different people would say Winston Churchill – On show 005 we mentioned how Susan Matthews MSNBC Hardball Chris Matthews thought of Winston Churchill as his hero he is also one of my heroes. When asked what guest Chris Matthews would have most wanted to have on his Hardball show his answer the British leader.  We did a show on the Roman Emperor Marcus Aurelius.
Fun Fact about Churchill:
President Ford gave the most comprehensive Churchill speech ever.
When President Gerald Ford spoke at the commemoration of Churchill's 109th birthday at the English Speaking Union in 1983, he gave what's become known as The Churchill Lecture. So beloved was this speech that many insisted it is printed and distributed as an authoritative biography. This wish was granted, and if interested, book collectors can now find limited editions of the speech printed and signed by President Ford for sale for a couple hundred dollars.
When it comes to quotes Churchill had so many awesome memorable quotes so I list numerous here because you should apply them all to your own business:
On being your own publicist
"History will be kind to me for I intend to write it."
That's why each of you should have your own website, blog and do your own marketing, sales and SEO because we have talked about telling your own story but you must control the message, develop the story and be your number one fan!
Persistence and never given up is so critical in business and life:
"Never give in–never, never, never, never, in nothing great or small, large or petty, never give in except to convictions of honor and good sense. Never yield to force; never yield to the apparently overwhelming might of the enemy."
keep that in mind when you think things are not going your way in business or that business is not coming in fast enough
You are in business to make a profit otherwise you would run a not for profit business –
"Socialists think profits are a vice; I consider losses the real vice."
each day attempt to sell your products, solutions services
On perseverance
"Success consists of going from failure to failure without loss of enthusiasm."
Don't allow the occasional failure to discourage you in any way. We all have failed in the past, and we all will fail in the future. So much is certain.
If we cannot avoid a failure we should try to learn as much as we can from it. Draw the essential conclusions out of the things that happened to you and try to give you very best to avoid similar failures the next time.
Difficulties Mastered are Opportunities won.
"You have enemies? Good. That means you've stood up for something, sometime in your life."
"Courage is the first of human qualities because it is the quality that guarantees all the others."
"An appeaser is one who feeds a crocodile—hoping it will eat him last."
"Character may be manifested in the great moments, but it is made in the small ones."
"If you have an important point to make, don't try to be subtle or clever. Use a pile driver. Hit the point once. Then come back and hit it again. Then hit it a third time-a tremendous whack."
"Success is not final, failure is not fatal: it is the courage to continue that counts."
"It is no use saying, 'We are doing our best.' You have got to succeed in doing what is necessary."
**
Wrap Up Round Sponsored by banksmarter.com
Get all the show notes at mitchellchadrow.com/show061
provide a well written review in itunes it will only take two minutes mitchellchadrow.com/itunes
One month before America joined Britain in World War II to battle hitler in the great battle he said: "The only guide to a man is his conscience;" he said, "the only shield to his memory is the rectitude and sincerity of his actions. It is imprudent to walk through life without this shield because we are often mocked by the failure of our hopes and the upsettings of our calculations; but with this shield, however, the fates may play, we march always in the ranks of honor."
What is true bravery well
today so many politicians cling to their office, Winston acted as if he was truly prepared to walk away, to risk what others said and what the talking heads preached and knowing the rejection, which came to him on so many unbearable occasions, but he refused to be someone that he wasn't – > a mantra I always say "to they shelf be true" He didn't spend a lot of wasted energy and he didn't believe in anger on what his critics thought, didn't ask what someone else's definition of "is" was. He wrote his own speeches because no one else but he had the sentiment, the knowledge, the passion to write for himself: Winston Churchill.
The goal of World War II, this great man said, was "to revive the status of man." He wanted to raise up the individual beyond the reach of the evil monsters of this world hitlers and stalins.
"What is the use of living," he asked, "if it is not to strive for nobler causes and to make this muddled world a better place for those who will live in it after we are gone?"
don't forget balance business with family and life.
If you enjoyed the show today let me know drop me a message on twitter @mitchellchadrow connect with me on lindedin an all other social media send me an email mitchell@mitchellchadrow.com
Until next time my trusted friends!
Resources
Chadrow.org – balance business, family and life: leaving a legacy
Hillsdale College
President Gerald Ford
Winston Churchill Collection