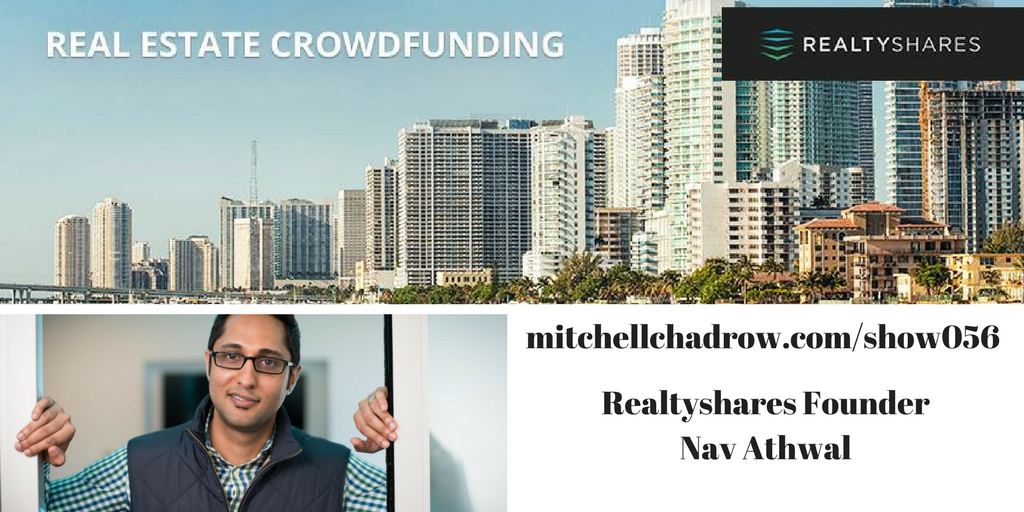 Today's guest is Nav Athwal is the founder of Realtyshare and he talks with us about the future of real estate investing. Nav is a real estate investor and fintech entrepreneur.  Nav is the Founder and former CEO of Realtyshares.
Nav has published Articles on Forbes, he has been featured on CNBC, Bloomberg and Fox Business.
Realty Shares is an Online marketplace for real estate investing with its 120,000 registered investors, surpassing $500 million in capital deployed with over 1,000 projects in 39 states.
. LinkedIn: in/athwal
. Twitter: @realtyshares
. EMAIL: nav@realtyshares.com
. WEBSITE: realtyshares.com
. WECHAT
.WHATSAPP
. SIGNUP
Nav Athwal is the Founder of Realtyshares.com  On this Listen Up Show episode we talk the future of real estate investing.
Nav Athwal, Founder Realtyshares.com has been busy in 2018! Nav was a guest on our Listen Up Show and we had a tremendous response from our listeners. Nav is a Entrepreneur-in-Residence at Metaprop a New York-based real estate technology firm in the proptech niche in the market.
Since the show Nav is now also involved with Nomadic Mentors who give back to startups and entrepreneurs by providing mentorship.
Nav still remains a board member of Realtyshares.com while leaving day-to-day running of the business to a wonderful team.
What You'll Learn on the Show
*How does realty shares work?
*How do you make a business more accessible, efficient, and transparent.
*What does it takes to build a leading online marketplace for real estate investing
*How Nav took the old real estate model and actually made it easier, simpler and more accessible to everyone and how you can use the same techniques in your own service industry for your own products and solutions
*We speak about the old models and fee structures and how he implemented the new models and thinking about what you will take away so you can apply these concepts to your side hustles, startups or businesses
*How did Nav first come up with the value proposition for his product service or solution and what you need to be thinking about as you Listenup so you can apply what you will learn here to your own businesses
Resources:
Google Plus Article
LinkedIn Article
Sam Zell
Avalonbay
Regulation A+
Passive Income
Crowd Funding
Accredited Investor
Cushman & Wakefield
Edward C. Forst
Goldman Sachs
Ron Suber
Prosper
Lending Club
Napier Park Global Capital
SoFi
AirBnB
Tech Crunch Article: Fintech Startups Navigate Legal Gray Areas
Farella Braun + Martel LLP
General Catalyst Boston VC
Menlo Ventures
Union Square Ventures
Equity Residential
IQ, EQ & AQ
Kickstarter
Indiegogo
Zynga
Trulia
Reality Mobile
FundRise

.  Books
.  Hosting
.  Graphic Designer
---
So Many Ways to Listen
---
CONNECT ON ALL SOCIAL MEDIA!