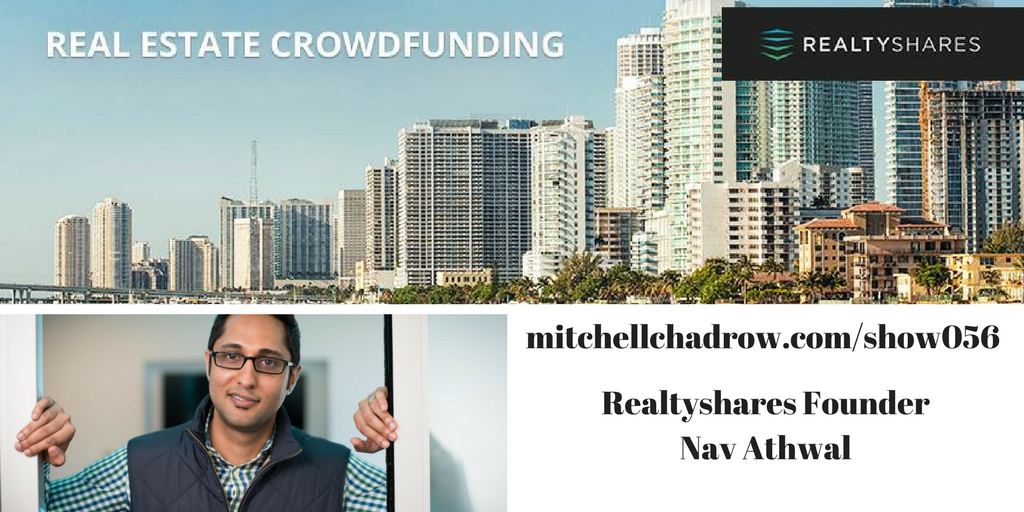 Realtyshares Founder Nav Athwal Talks Future Real Estate Investing Show 056
Nav Athwal is a real estate investor and fintech entrepreneur.  Nav is the Founder and former CEO of Realtyshares.
Nav has published Articles on Forbes, he has been featured on CNBC, Bloomberg and Fox Business.
Realty Shares is an Online marketplace for real estate investing with its 120,000 registered investors, surpassing $500 million in capital deployed with over 1,000 projects in 39 states.
. LinkedIn: in/athwal
. Twitter: @realtyshares
. EMAIL: nav@realtyshares.com
. WEBSITE: realtyshares.com
. WECHAT
.WHATSAPP
. SIGNUP
*How does realty shares work?
*How do you make a business more accessible, efficient, and transparent.
*What does it takes to build a leading online marketplace for real estate investing
*How Nav took the old real estate model and actually made it easier, simpler and more accessible to everyone and how you can use the same techniques in your own service industry for your own products and solutions
*We speak about the old models and fee structures and how he implemented the new models and thinking about what you will take away so you can apply these concepts to your side hustles, startups or businesses
*How did Nav first come up with the value proposition for his product service or solution and what you need to be thinking about as you Listenup so you can apply what you will learn here to your own businesses
Google Plus Article
LinkedIn Article
Sam Zell
Avalonbay
Regulation A+
Passive Income
Crowd Funding
Accredited Investor
Cushman & Wakefield
Edward C. Forst
Goldman Sachs
Ron Suber
Prosper
Lending Club
Napier Park Global Capital
SoFi
AirBnB
Tech Crunch Article: Fintech Startups Navigate Legal Gray Areas
Farella Braun + Martel LLP
General Catalyst Boston VC
Menlo Ventures
Union Square Ventures
Equity Residential
IQ, EQ & AQ
Kickstarter
Indiegogo
Zynga
Trulia
Reality Mobile
FundRise

.  Books
.  Hosting
.  Graphic Designer

30 Tools to Startup
Grab Mitchell's e-book – "30 Tools to Startup!"
As an entrepreneur, our guests remind us that time is our most valuable asset and you need to maximize your efficiency and productivity. And technology can be really helpful in doing that.
So I outlined the 30 tools that help you increase productivity, get started in business and I'm sure they'll help you too.
So click Download Now! below enter your email to sign up and subscribe and get your free ebook 30 Tools to Startup and start being smarter today!
---